The mission of the Collaborative Center for Literacy Development (CCLD) is to promote literacy and address the diverse needs of all learners through professional development for Kentucky educators and research that informs policy and practice.
In 1998, the Kentucky General Assembly unanimously passed Senate Bill 186, which established the Collaborative Center for Literacy Development: Early Childhood through Adulthood.  CCLD is administered through the Council on Postsecondary Education and housed at the University of Kentucky College of Education.  CCLD is a collaboration among the eight state universities and the National Center for Families Learning.  Senate Bill 1, enacted in 2000, directed CCLD to provide professional development for adult education instructors.  In the same year, House Bill 502 provided additional funding for the Reading Recovery Teacher Leader Training Program at the University of Kentucky.
Kentucky Reading Project (KRP) is a professional development initiative for Kentucky elementary (K-5) teachers designed to increase student achievement and family engagement in literacy. KRP is led by literacy faculty from Kentucky's 8 state universities.
Check out the newest CCLD brief by Dr. George Hruby, "On Teaching Children to Read." It's a simple two-pager (with an additional three pages of densely packed endnotes for the evidence curious). Get a quick take on:
The Simple View of Reading
What Children Need to Read Well
How Well Kentucky Students Read
Research Limitations and Policy Track Records
What's Up with the Reading Wars
The Bottom Line
---
You can find more information on other literacy topics on our Resources page!
The 2022 Annual Report is available for download HERE.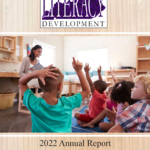 ---
The CCLD 2022 Annual Technical Report and Addenda is available for download by CLICKING HERE.
---
Supporting Readers Who Struggle
ILA Resource Collections have just released their evidence-based, practitioner-friendly content packets for students who need extra support in reading and literacy. They have been carefully curated by educators and researchers—from recorded sessions and peer-reviewed journal articles to magazine features and research-based instructional practices. Review the materials here:
https://www.literacyworldwide.org/get-resources/resource-collections
---
Literacy is defined as: "an individual's ability to read, write, speak…, compute and solve problems at levels of proficiency necessary to function on the job, in the family of the individual, and in society."
—Workforce Investment Act of 1998